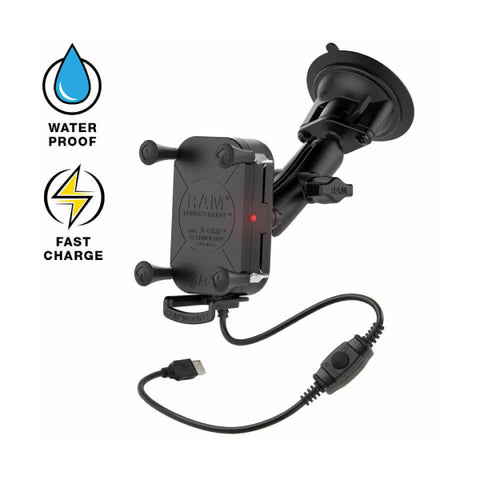 RAM® Tough-Charge™ Waterproof Wireless Charging Suction Cup Mount (RAM-B-166-UN12W)
$327.00

Ex. Tax: $297.27

$297.27
---
---
The RAM® Tough-Charge™ with X-Grip® Technology is the world's first patented, universal waterproof wireless charging cradle for phones. Designed with spring-loaded RAM® X-Grip® Technology, this cradle features an 'X' design that expands and contracts to secure nearly any phone while taking advantage of Qi compatible wireless phone charging. All four arms feature rubber-coated caps that hold your phone firmly in place, and the open design keeps buttons and switches accessible on the sides of phones. To insert your device, simply squeeze the arms on one side of the cradle and place your phone inside before releasing the arms.
This Qi wireless charging cradle ensures your compatible phone charges no matter what position it's placed at. For added security and peace of mind, a device tether is included that's recommended for outdoor applications. In addition, a support leg can be adjusted to the ideal position or removed altogether. This RAM® Tough-Charge™ with X-Grip® Technology wireless charging suction cup kit includes a B size diamond base featuring a 1" rubber ball, medium length double socket arm, and RAM® Twist-Lock™ suction cup. The connected Type-A male pigtail connector features an in-line switch that allows you to turn off the wireless charging module when not in use. For in-vehicle charging, attach the pigtail to the included 1.2m Type-A male to Type-A female extension cable.
Waterproof Qi compatible wireless phone charging cradle features spring-loaded RAM® X-Grip® technology and 10W maximum output
Kit for vehicles includes wireless cradle, B size diamond ball base, medium double socket arm, and RAM® Twist-Lock™ suction cup

Made of powder-coated, marine-grade aluminum, stainless steel components, and high-strength composite for durability and reliability in the most demanding environments

RAM® Mounts backed by lifetime warranty, RAM® electronics backed by 1-year warranty with proof of purchase required

Features & Specs:
Holder Dimension Width Range: 2.375" - 3.25"
Holder Dimension Depth Range: .875" max

Suction Size: 3.3" Diameter

Socket-to-Socket Length: 3"

Ball/Socket Size: B Size (1")

Weight Capacity Standard Use: 2 lbs

Weight Capacity Heavy-Duty Use: 1 lb

Materials: Marine-grade aluminum, High strength composite, Stainless steel

Input Power:5V-2A; 9V-1.67A

Output: 5W / 7.5W / 10W

Conversion Efficiency: 85% Max

Maximum Case Thickness: 6mm

Working Frequency: 110-205KHZ

Product Standard: WPC v.1.2.4

Qi Compatible

Compatible with QC2.0/QC3.0 power supplies

Connector Type: USB Type-A Male

Input Cable Length: 20" with optional 1.2M extension cable

Compliance: Over current protection, short circuit protection and over temperature protection

Certifications: FCC, IC, CE, e-Mark, WEEE, RCM, and RoHS Compliant

Weight: 1.7 lbs.

Warranty Status: 1 year warranty

Size of case may affect compatibility. Not compatible with phone cases containing metal. This holder will not charge phones that do not have built-in wireless charging capabilities, such as the Apple iPhone 7 or Samsung Galaxy S5.

Package Content:
1 x RAM-HOL-UN12WB
1 x RAM-B-201U

1 x RAM-B-224-1U