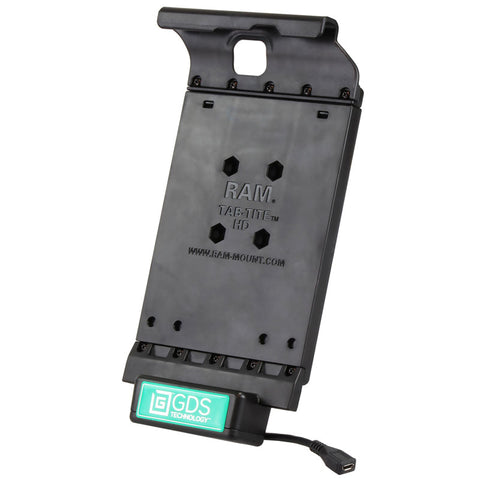 RAM GDS® Vehicle Dock for the Samsung Galaxy Tab S2 8.0 (RAM-GDS-DOCK-V2-SAM18U)
$167.00

Ex. Tax: $151.82

$151.82
---
---
The RAM® vehicle mount with GDS Technology™ is a spring loaded, fast release mount that allows you to conveniently access your Samsung Tab S2 8 while securely holding it. This cradle is compatible with the Samsung Galaxy Tab S2 8.0 with IntelliSkin®.

The integrated GDS Technology™ platform enables data and charging capabilities to the mounted tablet. Without the need to remove the IntelliSkin from the device, the user can quickly and efficiently mount the device in the vehicle dock and keep the device charged. The vehicle mount is designed to meet the demands of field workers in a variety of applications including transportation, field sales, logistics, manufacturing and much more.
Specs & Features
RAM® is setting a new standard by creating a uniform platform for making connection between any electronic device and a dock for power and data communication.
Provides compatibility across multiple devices, making power and data communication simple and cost effective.
GDS Technology™ offers a universal charging platform for any device wrapped in IntelliSkin®.
Connect to High Definition Video through a Slimport, MHL, or device specific HD video adapter.
Enhance your device by connection to Ethernet via USB.
Project your device's audio to an external speaker system or recording device seamlessly, and without directly plugging any cables into your device.
Max power 5V-12V @ 2A
mUSB products supporting USB 2.0/3.0 will have a max current of 1.5A
Weight: 0.91 lbs.
---
We Also Recommend