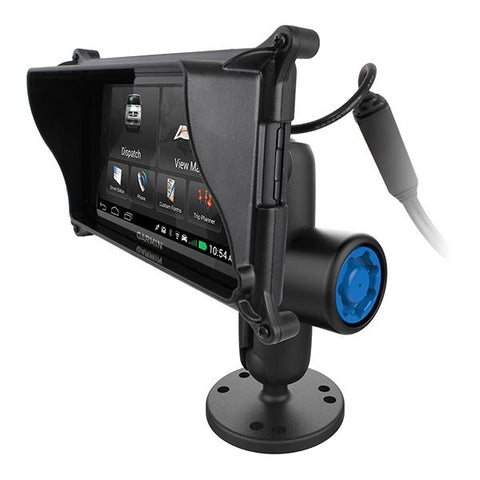 RAM 1" Ball Locking Mount, Pin-Lock™ Knob & Locking Case for Garmin fleet (RAM-B-138-GA66LU)
$109.95

Ex. Tax: $99.95

$99.95
---
---
The RAM-B-138-GA66LU has a double socket arm, Pin-Lock™ security knob/key knob, 2.5" diameter round base with the universal AMPS hole pattern, diamond adapter base and custom high strength composite locking case for the Garmin fleet 660/670.

To make sure that your Garmin fleet 660/670 stays securely in place especially in vehicles, the locking case holds it. This case also allows full and easy access to the screen, power plug, and memory card slot.

Paired with a RAM Pin-Lock™ security knob/key knob, this solution is the ideal accessory for deterring theft or accidental removal of the mounted GPS device.
Specs & Features
Cradle locks device so it cannot be removed without the use of tools
Cradle offers open access to all ports on device including audio port, speaker/mic and mini USB power/data cable
Integrates factory Garmin magnetic dock
Pin-Lock™ security knob is low in profile and only adds a small amount of additional bulk to your mounting kit.
Rugged construction deters theft and protects vulnerable areas of device
Will not obstruct GPS signal
Material: High Strength Composite and Powder Coated Marine Grade Aluminum
Ball Size: 1" Rubber Ball "B" Size
Weight: 1.0 lbs.
---
We Also Recommend