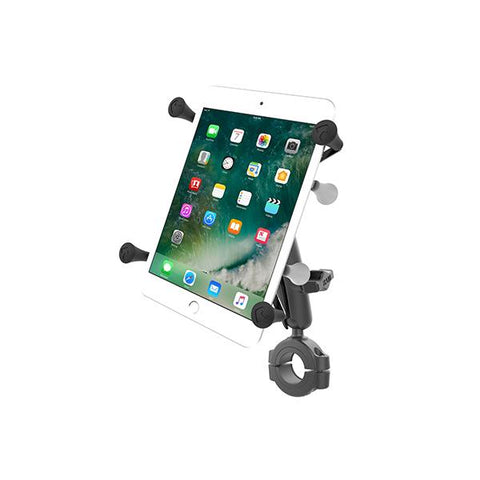 RAM® X-Grip® with RAM® Torque™ Large Rail Base for 7"-8" Tablets (RAM-B-408-112-15-UN8U)
$160.00

Ex. Tax: $145.45

$145.45
---
---
Take your mobile entertainment on the road with the new RAM® Torque™ handlebar and rail mounting base. We've paired a B-sized 1" rubber ball that accommodates bars 1 1/8" to 1 ½"in diameter with a B-sized standard length arm and the dynamic X-Grip® for 7" - 8" tablets. Sizing inserts are included to provide a snug fit and offer additional protection for the rail.
The mount utilizes nylon-insert locknuts to prevent loosening in high vibration environments. This low-profile mount is the perfect way to secure your personal electronics and small accessories in any high-vibration environment. The spring loaded X-Grip® cradle expands and contracts, allowing for a perfect custom fit of your tablet. Included are extra easy access grip knobs, located on the back of the cradle for quick release of your tablet. The X-Grip® includes a device tether recommended for outdoor applications. The cradle is compatible with handheld devices that will fit the dimensions listed below. It is important to verify the dimensions of your handheld device with a case/sleeve/skin when determining the overall size.

Compatible Devices
: 7"-8" Tablets
Amazon: Fire 7, Fire HD 8, Kindle, Kindle Oasis, Kindle Paperwhite, Kindle Voyage
Apple: iPad mini (1st Generation), iPad mini 2, iPad mini 3, iPad mini 4, iPad mini 5
ASUS: MeMO Pad 8, VivoTab 8, ZenPad 8.0, ZenPad C 7.0, ZenPad S 8.0, ZenPad Z8, ZenPad Z8s
Dell: Venue 7, Venue 7 (2014), Venue 7 3741, Venue 8, Venue 8 (2014), Venue 8 7840, Venue 8 Pro, Venue 8 Pro 5855
Google: Nexus 7
HP: Pro Tablet 408, Slate 7
Huawei: MediaPad M3, MediaPad M3 Lite, MediaPad T1 7.0, MediaPad T1 8.0, MediaPad T3 7, MediaPad T3 8
Lenovo: Ideapad Miix 300, IdeaTab A1000, IdeaTab A2107, IdeaTab A3000, Tab 2 A7-10, Tab 2 A7-20, Tab 2 A7-30, Tab 2 A8, Tab 4 8, Tab 4 8 Plus, Tab 7 Essential, Tab A7-30, Tab A7-40, Tab A7-50, Tab A8-50, Tab S8, Tab3 7, Tab3 8, Yoga Tablet 8
LG: G Pad 7.0, G Pad F 8.0 (2nd Gen), G Pad F2 8.0, G Pad II 8.0, G Pad X 8.0, G Pad X II 8.0
Nvidia: Shield Tablet
Rand: McNally OverDryve 7, McNally OverDryve 7 Pro, McNally OverDryve 7 RV, McNally OverDryve 7c, McNally OverDryve 8 Pro, McNally Road Explorer 7, McNally Road Explorer 70, McNally RV Tablet 70, McNally RVND 7, McNally TND 740, McNally TND Tablet 70, McNally TND Tablet 80
Samsung: Galaxy Tab 2 7.0, Galaxy Tab 3 7.0, Galaxy Tab 3 8.0, Galaxy Tab 3 Lite 7.0, Galaxy Tab 4 7.0, Galaxy Tab 4 8.0, Galaxy Tab 7.7, Galaxy Tab A 7.0, Galaxy Tab A 7.0, Galaxy Tab A 8.0, Galaxy Tab A 8.0 (2017), Galaxy Tab A 8.0 (2018), Galaxy Tab A 8.0 (2019), Galaxy Tab Active2, Galaxy Tab E 7.0, Galaxy Tab E 8.0, Galaxy Tab Pro 8.4, Galaxy Tab S 8.4, Galaxy Tab S2 8.0
Vankyo: MatrixPad Z1 7"
Specs & Features
Cradle Dimensions:

Minimum Width = 2.5" (Minimum Height = 7")




Maximum Width = 5.75" (Minimum Height = 4")



Weight: 0.86 lbs.
Materials: Powder Coated Marine Grade Aluminum, Marine Grade Stainless Steel Components & High Strength Composite
Ball Size: B Size 1" Rubber Ball
Note: The "U" in the part number reflects product packaged in poly bag. RAM highly recommends using the provided Tether for all open cockpit applications while using this product.
Package Contents
1 x RAM-B-201U
1 x RAM-B-408-112-15U
1 x RAM-HOL-UN8BU
---
We Also Recommend