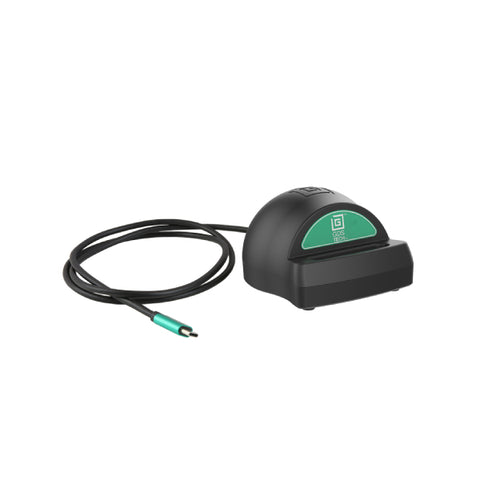 GDS® Desktop Dock with Power Delivery (RAM-GDS-DOCK-D7U)
$132.00

Ex. Tax: $120.00

$120.00
---
---
This single GDS® Desktop Dock with Power Delivery is a low-profile docking and charging station for phones and small tablets wrapped in an IntelliSkin® protective sleeve. The desktop dock provides power connectivity only and is designed for everyday use of most tablets and phones. The desktop dock features pogo pin contacts designed to match the pogo pads on IntelliSkin®-wrapped devices supporting USB Type-C charging profiles. The USB Type-C charging cable is integrated into the back of the dock with a power output of 20V @3A max. This dock will support all USB Type-C devices wrapped in both IntelliSkin® and IntelliSkin® Next Gen devices.
Features & Specs:
Single desktop dock designed for docking and charging devices wrapped in IntelliSkin® and IntelliSkin® Next Gen protective sleeves
Power Delivery via integrated 1m long USB Type-C male cord

Power output of 20V @3A max

Backed by a 3-year warranty

Overall Width: 3.66"

Overall Height: 2.54"

Overall Depth: 4.21"

Material: High strength composite

Output Voltage: 20V @ 3A

Input Connector: USB Type-C Male

Input Cable Length: 1 Meter

Weight: 1.35 lbs.

Warranty Status: 3 year warranty

Note: This dock will not support IntelliSkin models with a lightning connector or mUSB connector.

Package Content:
1 x GDS® Desktop Dock with Power Delivery (RAM-GDS-DOCK-D7U)