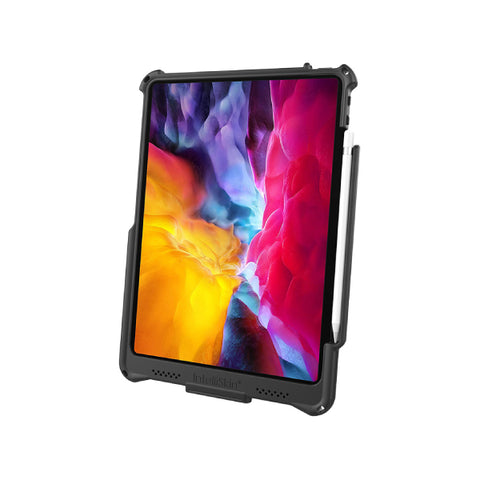 IntelliSkin® for the Apple iPad Pro 11" (2nd Gen) (RAM-GDS-SKIN-AP23-A)
$135.00

Ex. Tax: $122.73

$122.73
---
---
IntelliSkin® is a protective sleeve featuring GDS® Technology™ for the Apple iPad Pro 11" (2nd Gen). Wrapping around the device, IntelliSkin® provides military-grade drop protection and features an integrated GDS® connector molded directly into the skin that prevents damage to the device's charging port.
An integrated attachment slot on the right allows you to secure your Apple Pencil. The exterior of the IntelliSkin® sleeve includes contacts designed for repetitive docking in field applications. This version of IntelliSkin® is compatible with the GDS® Hand-Stand™ and shoulder strap accessories.
Protective sleeve features GDS® Technology™ and military-grade drop protection; designed specifically for the Apple iPad Pro 11" 2nd Gen
GDS® connector and docking contacts provide charging and data sync capabilities

Side cut-out designed to hold and protect the Apple Pencil

Compatible with select GDS® Docks™ and accessories

Features & Specs:
Materials: Polycarbonate and Thermoplastic Elastomers
Warranty Status: 3 year warranty

Additional Information: Made for iPad" means that an electronic accessory has been designed to connect specifically to iPad, and has been certified by the developer to meet Apple performance standards. Apple is not responsible for the operation of this device or its compliance with safety and regulatory standards. Please note that the use of this accessory with iPad may affect wireless performance.

Package Content:
Contains 1 x IntelliSkin® for the Apple iPad Pro 11" (2nd Gen) (RAM-GDS-SKIN-AP23-A)
---
We Also Recommend