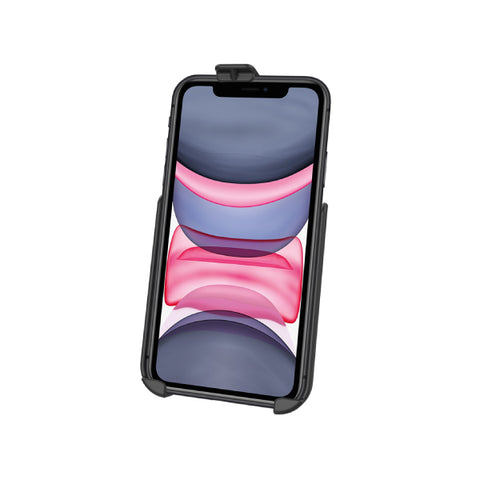 RAM® Form-Fit Cradle for Apple iPhone 11 (RAM-HOL-AP28U)
$25.00

Ex. Tax: $22.73

$22.73
---
---
This high-strength composite, form-fit cradle was designed specifically for the Apple iPhone 11. Allowing for easy one-handed docking and removal of your iPhone 11, all buttons, cameras, ports, and speakers remain exposed and accessible. The 2-hole AMPS pattern on the back of the cradle and included hardware allows for the attachment of a RAM® diamond ball base – compatible with a wide range of additional RAM® components.
Specs & Features
Form-fit cradle for iPhone 11 provides a perfect fit for your device without a case
Compatible with B and C size RAM® diamond ball bases for attaching a double socket arm; ball and socket technology allows for near-infinite adjustability
Made of high-strength composites for durability and reliability in the most demanding environments
Backed by a lifetime warranty
2-Hole AMPS Pattern: 1.912"
Material: High Strength Composite
Weight: 0.17 lbs.
Exposure to vibrations, like those generated by high-powered motorcycle engines, might impact iPhone cameras. Click here to learn more.
Package Contents
1 x RAM Form-Fit Cradle for Apple iPhone 11 (RAM-HOL-AP28U)
---
We Also Recommend