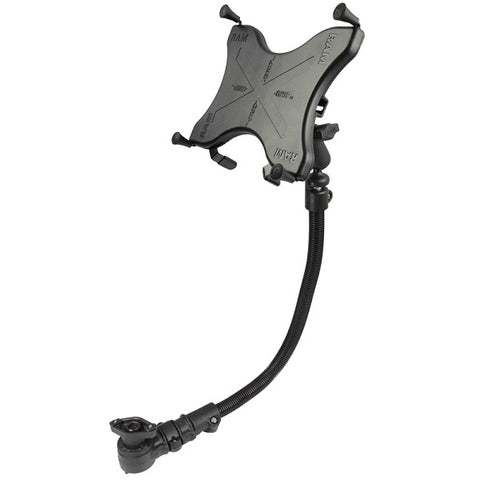 RAM® Tablet Mount for Wheelchairs with Quick Release & Swivel Feature (RAP-AAPR-WCT-114P-18-UN9U)
$369.00

Ex. Tax: $335.45

$335.45
---
RAP-AAPR-WCT-114P-18-UN9U
---
The RAM® Tablet Mount with Quick Release & Swivel is the perfect solution for mounting virtually any 9"-10.5" tablet to any wheelchair armrest track, Invacare armrest, or wheelchair seat track. The system consists of the RAM® X-Grip® tablet holder, B size double socket arm, an 18" long rigid aluminum rod with post adapter, and the RAM® Universal Wheelchair Base. The universal base offers a quick disconnect feature of the entire mount without having to adjust any ball and socket components.
The base also features an adjustable knob that lets you swivel the mount in and out of position with ease. When mounted to a seat track, the aluminum rod can be left loose to achieve the same swivel feature. The compact design of the RAM® Universal Wheelchair mounting system stays within the chair's armrest width, offering peace of mind when navigating through tight spaces and doorways. All RAM® mounting compontents are backed by a lifetime warranty.
Universal fitment for all wheelchairs with tracks on seat and/or armrest, including Invacare Armrests
Easy swivel and quick release capabilities without changing ball and socket positioning

Compact design keeps mount within armrest width

Supports most any 9"-10.5" tablet with or without a case at virtually any angle

Backed by a lifetime warranty

Features & Specs:
Hardware Included:
Assembly Hardware


(2) #10-32 T-Nuts
(2) #10-32 Flat Weld Nuts

(2) #10-32 x 7/16" Machine Screws

(2) #8-32 x 3/4" Machine Screws

(2) #8-32 Nylock Nuts

(2) #8 Washers


Holder Dimensions:


Max Height: 10.25" (using optional supports)
Width Range: 6.25" - 8.1"

Max Depth: .875"


T-Bolt Dimensions:


Large: .48" x .95"
Small: .375" x .593"


Hole Pattern: 2-Hole AMPS: 1.912"

Ball/Socket Size: B Size (1")

Weight Capacity: Standard Use: 2 lbs, Heavy-Duty Use: 1 lb

Materials: Marine-grade aluminum, High strength composite

Packaging Type: Poly Bag

Weight: 2.75 lbs.

Package Content:
Contains 1 x RAM® Tablet Mount for Wheelchairs with Quick Release & Swivel Feature (RAP-AAPR-WCT-114P-18-UN9U)